Last year at the height of the pandemic, we wrote about our 'Top 10 Movies to Geek Out on While Stuck at Home'. A year and some change later, we're not quite as isolated as we were then. But most of us are still spending a bit more time than usual at home, which means those movie marathons are still going on.

This makes it the perfect time to dive into some movie genres that people might not be so familiar with — poker movies in particular. Poker is something that shows up in many films, such as Casino Royale, but not many people have a good amount of knowledge on films where poker is the main focus.

Rounders

There's no way we could open this list without Rounders. The movie stars Matt Damon and Edward Norton, featuring a protagonist that returns to the world of gambling in order to help his friend. While it might not be the most detailed take on poker, it's an important part of the game's history.

The film is widely credited with launching No-Limit Texas Hold'em to the top of the poker world. Rounders not only showed audiences how fascinating Hold'em could be but also inspired an amateur player named Chris Moneymaker, who ultimately went on to win the World Series Of Poker — and in doing so helped turn to Hold'em into a pop culture phenomenon. Now, more than 20 years after Rounders came out, Texas Hold'em is still poker's most popular variety.

All In: The Poker Movie

All In: The Poker Movie is a documentary focusing on the early 2000's poker boom, detailing some of the game's most important events during that time period.

This is another movie that all poker fans should watch, as it covers some of the reasons why poker is so big today. Chris Moneymaker's account of how he won the 2003 World Series Of Poker main event alone makes All In worth checking out.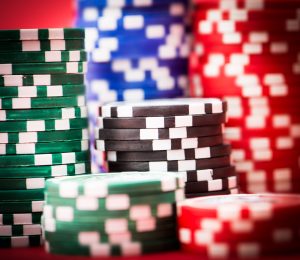 The Cincinnati Kid

This is the oldest film on this list, but don't let that turn you away. Set in 1930's New Orleans, The Cincinnati Kid details the titular gambler who wants to improve his reputation by beating the best poker player in the game. Of course, this catches the attention of many shady figures within the city.

While it's another one that might not be the most accurate film due to its setting, The Cincinnati Kid is a well-written movie with a memorable ending. It also features Steve McQueen in one of his more unusual roles.

The Grand

The Grand is by far the most outlandish film on this list. It's an improv comedy, with no real protagonist and a fair bit of actual poker being played.

What makes it so unique is the fact that the film's script never had a set ending. It was all determined by which actor actually won the real poker games being played. With no protagonist to root for and no way of knowing how the film will end, you're instead taken on a roller-coaster ride through the weirdest poker tournament you'll ever see.

Maverick

Another less serious film, though not quite as strange as The Grand, it features Bret Maverick, who must gamble to earn the money required to enter an upcoming winner-takes-all poker game.
It's got a bit of everything, as Maverick attempts to make his money while many people conspire against him. There's still poker to be played, just with a light-hearted tone for the most part and a lengthy journey beforehand.

Thankfully, while many of these films may be old, it's still possible to view many of these series online via streaming services like HBO Max. If you're planning on having a movie night at home, then it might also be worth picking up a fancy new TV to watch them on. After all, if you can't make it to a movie theater, then why not make your home instead.