Phone technology is becoming more and more powerful by the day. And the devices we carry around in our pockets are now attuned to almost every aspect of our lives. Upgrades in software and hardware mean that cell phones now hold their own in terms of communications, photography, and gaming.

Offering some much-needed escapism over the past year and a half, mobile gaming is now a regular feature of many people's lives. And with over 1 million games available on app stores, the breadth of choice is staggering.

However, not all mobile games are created equally. Many of the apps that make their way to our devices enjoy only a brief stay. Whether bloated with advertising, outdated, or simply not fit for purpose, it's easy to get frustrated when you're looking for a little escapism to fill your day.

To save you any more hard work, we've put together a list of our five favorite mobile game apps currently on the market.

1 – Draw Something
For players looking to unleash their creativity in their downtime, look no further than Draw Something. A game best played with friends, the premise of Draw Something is similar to Pictionary. Players are given a word to turn into a piece of art and the other player has to guess what they are drawing. You may be thinking that drawing on your phone sounds difficult, or you may be worried that your art skills aren't quite up to scratch – but that's exactly what makes the game so fun.

2 – FIFA Soccer

FIFA franchise has been behind some excellent games over the years, and this mobile offering is another example of their ability to create world-class soccer simulation games. FIFA Soccer features over 50,000 players and allows players to compete in branded league competitions, train as superstar athletes, and take on friends in 11-a-side matches.

3 – Angry Birds 2

Angry Birds has to be one of the most talked-about mobile gaming apps of all time. Built around the premise of launching wingless birds at piggies and building blocks, the Finnish game has even spawned a successful movie franchise. Angry Birds 2 is an updated take on their original product with multi-player action and contests to enjoy.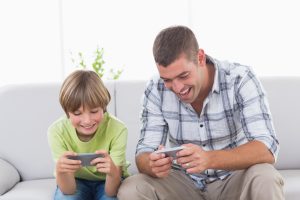 4 – Zynga Poker
This app was mentioned in a beginners' poker guide just this year as one of the best options for those who want to play poker for free. Zynga features lush graphics with easy-to-understand mechanics and is one of the best ways to play poker today, especially if you're new to the game.

5 – 80 Days

For players looking for something a little different, be sure to check out 80 Days. An award-winning text-based strategy game, 80 Days follows the famed literary character, Phileas Fogg, as he journeys around the world in 80 days. Users can decide their own journey, and each game develops different outcomes so can be played in a number of different ways.