Having a reliable connection ensures that your gaming experience doesn't get halted midway. You can hook up your smartphone with the home broadband or look to the data pack in sim-only deals, for enjoying top-notch graphics of online games.
A slow internet connection can serve as a blockade in your path of seamless gaming. This is why it becomes imperative to check the internet speed in advance before deciding on the data packs or broadband connection. The minimum speed required for gaming is 3Mbps. Anything below this will result in a serious lag and prevent users from getting rapid response thus dampening their winning chances at gameplay. Once you have sorted out the connectivity issues, you can choose amongst the top-mentioned smartphones that can be yours with no upfront cost to take your gaming experience to the next level.
Did your smartphone let you down recently amidst a heated battle? If you have an affirmative response, then you are not the only one. Numerous users end up buying smartphones that are advertised as gaming devices only to find them crashing or lagging at peak moments. Keeping such things in mind, we have compiled a list of the best gaming phones which guarantee powerful gameplay courtesy of an abundance of RAM, robust chipsets, and stellar display. Read on to know about the top contenders of the gaming category so that you can grab them at attractive discounts from upcoming phone deals.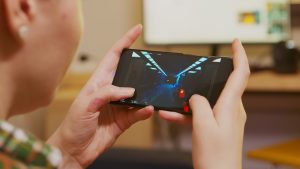 ASUS ROG Phone 5
Serious gamers can enjoy superb battery life, crisp graphics, and high frame rates with this latest addition to the ASUS family. It is accompanied by a 6.78-inch AMOLED display supporting a maximum variable refresh rate of 144Hz. The ASUS model can tackle absolutely any game courtesy of its 16GM RAM and Snapdragon 888 chipset. A 6000 mAh battery supporting 65W charging can guarantee prolonged hours of gameplay without running out of juice. The gaming experience gets further enhanced by powerful stereo speakers, virtual trigger buttons, and customizable RGB lights.
iPhone 13 Pro Max
The latest iPhone 13 Pro Max by Apple offers the best value to gamers who don't have a strict budget to adhere to. It can handle every mobile game empowered with its 120Hz display, A15 Bionic chip, and improved battery life. A fantastic 6.7-inch OLED display, fantastic cameras, and an array of other features make it an absolute delight to use.
Samsung Galaxy Note 20 Ultra
Though the Samsung Galaxy Note 20 Ultra doesn't resemble a gaming phone, it comes with all the bells and whistles to deliver a fantastic gaming experience. Its advanced display can scale from 30Hz to a maximum of 120Hz for matching your screen frame rate. The Samsung Galaxy Note 20 Ultra can cast games to external displays via Miracast or Samsung's DeX interface. It can also stream Xbox titles through Xbox Game Pass Ultimate. If you have a stable internet connection, then you can run almost any game smoothly with its 12GB RAM.
OnePlus 9 Pro
Your search for a high-end Android device carrying an affordable price tag ends with the OnePlus 9 Pro which can deliver peak gaming performance along the way. Its 6.7 inches OLED display offers a maximum resolution of 1440 pixels for delivering sharp and colorful visuals. This gaming phone stands out from its peers with a dynamic refresh rate of 120Hz which renders a smooth gaming experience. The brand-new Hyper Touch technology boosts up the touch sampling rate to 360Hz for offering instant response and enhancing your chances of victory. This smartphone supports both wired and wireless charging and retains its battery following a single charge. Four back cameras from Swedish camera maker Hasselblad make the OnePlus model a genuine rival of Samsung Galaxy and iPhones.