As Christmas closes in and Santa prepares his sleigh for a night of chimney excursions, many of us are racing to buy presents and finish up end-of-the-year shopping. But others are working tirelessly to make up for days off around the holidays, filing reports, crunching numbers, or completing an employee training program. This added stress can make it hard to get into the holiday spirit, and what better way to combat this feeling than by watching a classic Christmas movie?
Dr. Seuss' How The Grinch Stole Christmas
Jim Carrey portrays possibly the perfect rendition of The Grinch, released in 2000. He's sarcastic, gross, and, quite frankly, a little scary-looking. That being said, we love it. It's chock-full of quotable lines that will have you coming back to it every Christmas. Kids these days may only be familiar with the 2018 version of the film, voiced by Benedict Cumberbatch, which is fine but just doesn't deliver the same vibes as our main man Jim. Or if you're feeling nostalgic, go back and watch the original cartoon version from 1966; it's shorter but still great.
The Polar Express
All aboard! The Polar Express is merry, filled with memorable songs, and, of course, hot chocolate. Plus there are several characters voiced by the marvelous Tom Hanks, and who doesn't love Tom? Your kids will probably be the most familiar with this flick, as it is the most recent one released, even though it was still all the way back in 2004. This animated film quickly became a popular Christmas film among kids and adults when it was initially released, and there are still plenty of people that turn it on each and every year.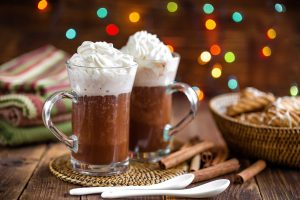 Home Alone
While there have been several films in the Home Alone franchise at this point, the original is one of the greatest Christmas movies of all time. The second film is a pretty good watch, too, but you can skip just about all the movies past that. However, that first film is filled with plenty of funny, exciting, and heartwarming moments that fit perfectly with the holiday season. Watching Kevin McCalister foil the wet bandits is not only timeless but puts us in the Christmas spirit every time.
Happy Holidays!
Just picture it: You're sitting on the couch with your family, the fireplace is burning–or at least glowing, if it's electric–and Charlie Brown's Christmas Special is playing on TV. Maybe you've even got a cup of hot chocolate with a couple of marshmallows thrown in, just to top off the mood. This is what the holidays are all about. Turn on your favorite Christmas movie, whether that's one of the above or something from your own catalog of holiday classics, and leave that work stress at the doorstep this holiday season.