Do you love the great outdoors? Are you desperate to get back out onto the hiking trails after spending the past year and a half indoors? If so, you're definitely not alone. Now that the world has opened back up and daily has mostly returned to normal, the desire to get back outside is greater than ever. Whether you're an experienced hiker or you want to try it out as a new hobby, you will need to do a few things to prepare for your next outing. So, in today's post, we are going to look at some of the best ways to make the most out of your next hiking trip!
Make Sure You're Physically Ready
If you're like most people, you probably spent the majority of 2020 and 2021 sitting inside, watching TV, scrolling through your phone, or doing other sedentary activities. As a result, you may not be in the best shape of your life. This means that you may not be ready to take on a difficult hike without getting in a little preparatory exercise first. Additionally, you need to make sure that your feet are up to the task. For example, if you find yourself plagued by bunions, you will want to get them taken care of with the experts at thebunioncure.com before you hit the open trail!
Find a Hiking Buddy
While there is no shame in taking a hiking trip by yourself, it can greatly increase the risks involved. Many hikers have taken trips without alerting their friends and family of their location. If an accident occurs or someone goes missing, this can spell disaster. Fortunately, you greatly reduce the risk of getting lost or injured if you take along at least one hiking buddy. When it comes to trekking through the wilderness, there really is strength in numbers!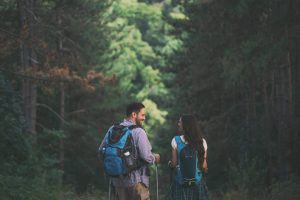 Gather the Necessary Equipment
While hiking can be done with as little as a water bottle and a good pair of hiking boots, the type of equipment you need will all depend on the location and length of your trip. If you're just taking a short hike through the nearby forest, you probably won't need to buy any special accessories. However, if you are planning a multi-day trek through unfamiliar territory, you will need a number of important items including, but not limited to:
Hiking pack
Hiking boots
Smartphone
Compass
Map
Tent
Sleeping bag
Food and water
Rain gear
Bug spray
Extra clothing
Sunscreen
Plan Your Route
It can be very exciting to go out into the wilderness and explore the unknown. However, it can also be very dangerous. Consequently, you should always plan out your route ahead of time. This way, you know where you're going, what to expect, what gear to bring along, as well as any nearby landmarks. Ultimately, planning your route can make your trip easier, more enjoyable, and much safer!
Did you find our guide on how to make the most out of your next hiking trip useful? If so, be sure to check out some of our other posts on All Geek to Me today!