In this economy, making ends meet can be difficult with one job. Side hustles are a great way to earn some extra money on top of your normal paycheck.
While they are glorified for providing extra cash, the reality of making it usually comes after you sign up. Things like startup costs for gas, car insurance for a delivery driver, or materials can make a living the side hustle dream anything but blissful.
This article outlines the highest-paying side gigs and what you can expect to earn.
What is a good side hustle job?
If you've been searching for a way to supplement your income but feel like you're getting the short end of the stick, you're not delusional. The secret to finding a good side hustle is checking off requirement boxes before deciding to commit. 
A list of questions you should use to evaluate the potential quality of any side hustle is: 
What's the income potential? –

What you put in won't exceed what you're getting out.

Who's the boss?

– You want to be in control of your fate, especially if you already have a boss during your full-time income. 

When are you earning

? – Does the hustle have the potential to be passive income, or can you earn while doing things you already do? You already work hard, so make your money work and come to you.

How much will you enjoy it?

– Don't dread your side hustle. If all your side gig does is bring you stress, no amount of money is worth it. Have fun or be done.
Knowing what to look for will help you avoid losing money by starting a side hustle that hustles you.
What are the Most Profitable Side Hustles?
Now that you know what qualities to look for in a side hustle, you have the power to pick the most practical one for your needs. The good news is that with Android and iPhone apps, making some side cash has never been easier. 
Rideshare Options to Earn $60-$100 a Day
What you're probably used to hearing with ridesharing is that you download an app and start driving, but it's not that simple if you want to maximize your profits.
If you live in a busy city, ridesharing is a great way to supplement your income. The majority of rideshare drivers report earning an average of $25 before deductions. A list of what calculates a rideshare driver's overall earnings includes:
For Lyft:
Base fare

– $1.12 

Cost per mile

– 87 cents

Cost per minute

– 17 cents

Service fee

– $3.90

Minimum fare

– $5.30
For Uber:
Base fare

– $5.00

Cost per mile

– $1.90

Cost per minute

– 60 cents

Booking fee

– $2.55

Minimum fare

– $6.50
Both of the popular apps function similarly where you begin earning as soon as you pick up a passenger, but your earnings don't reflect the time or gas needed to get to pick-ups. Keeping in mind that you always begin in the negative is crucial when looking to make money by ridesharing.
Insurance tip: Alert your auto insurance provider before starting ridesharing to ensure you have the proper insurance in case of an accident. Choosing not to disclose that you are using your vehicle for ridesharing could violate your current policy.
Freelance Work Has Unlimited Potential
If you're a talented artist, editor, or writer, you could be getting paid for your skills. 
With platforms like Fiverr, SimplyHired, and Upwork, you can take on freelance work as you please. Freelancing is truly the perfect side hustle because you choose who you work with and when. 
Even if what you do is a hobby, you get a chance to sharpen your skills by turning them into income. We all have to make money to support ourselves, which doesn't always mean holding our dream job. Turning your talent into a money-making outlet allows you to get your name out there while paying current bills.
Freelance workers tend to report an additional $1,000 a month on top of costs used to work, such as equipment or travel. These earnings are general, but considering most works can be done remotely, this side hustle is one of the most flexible.
Dog Walking and Pet Sitting to Earn up to $3,000 a Month
You can self advertise or join apps like Rover for a jumpstart, but if you love fuzzy friends, this could be for you. Playing with pets not only helps reduce anxiety and depression, but it also pays pretty well.
Between dog walking and pet sitting in your home or a client's, you can manage multiple jobs at once and maximize your earnings. Most of the time, pet owners just want to ensure their pet's comfort and safety, which can be done on your schedule.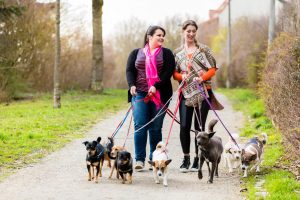 Selling Products on Etsy Can Earn a Second Salary
For crafty folks, Etsy could be your side hustle sweet haven.
If you're looking for outlets to better your photography or handcrafting skills, Etsy is a great platform to test products for side hustles or a developing business. With an established audience, finding buyers is easier than building your own platform, which increases your earning potential.
Various platforms reflect that Etsy sellers can make over $50,000 a year on the platform, but try to keep your goals realistic. On average, Etsy shops take at least six to eight months to grow a clientele, a complete portfolio and receive positive reviews before substantial money is made.
If you have the time, passion, and dedication, becoming an Etsy seller can be worth the wait.
Start a Blog or Podcast and Make Thousands Extra
Do you have a lot to say but don't think anyone would listen?
You'd be surprised how many average joes make money by talking about whatever they please. Independent bloggers and podcasters report earning over $10,000 a month in some cases.
Before getting sponsored full-time, you only need around 4,000 listeners on average. You can cross-promote your blog and podcast with social media platforms and begin growing your audience. 
How Can I Make Extra Money?
These few examples are not the only possibilities, and if you possess a skill that hasn't been mentioned, consider copying these formats to monetize your skillset. The fun with side hustles is that you earn money outside of your everyday routine.
Don't over-stress, and give whatever avenue you choose the time it needs to blossom. Enjoy what you're doing, and the profits will follow.
 Danielle Beck-Hunter writes and researches for the auto insurance site, AutoInsurance.org. Danielle has been a freelancer for three years and is passionate about teaching others how to monetize their skills.