I am someone who loves tech but does not have the means to live on the bleeding edge. Indeed, I am not alone in this regard. Much like window shopping at Gucci, I window shopped at various shops on the internet, with one goal in mind – build the ultimate tech-inspired entertainment space that I can never actually afford.
This article has three parts: gadgets, furniture, and lighting. In each of these parts, I will list my favorite picks and the reason for choosing them. Furthermore, I have taken an arbitrary living room space as my entertainment hub.
Ranging from TVs to lights and everything in between, this is your one-stop-shop to "tech-out" your living room!
How Much Tech Is Too Much?
It is only fitting that I begin the article with what inspired the space – the tech in itself. In this section, I take a look at the cutting-edge technology that makes the space.
The Smart Idiot-Box
The centerpiece of any living room is indeed the TV. The "ultimate" setup, however, cannot have just any TV in it. Enter LG's Signature Wallpaper 4K OLED TV. This 65" behemoth is the pinnacle of home entertainment. I have always been a fan of the deep blacks and high contrast of OLED panels. Besides, it is HDR10 compatible and has Alexa built-in. Its soundbar is also Dolby Atmos-certified, to perfectly complement the Dolby Vision certified display. The soundbar acts as the hub for all inputs to the TV. It also has a bunch of speakers inside, giving an impressive surround-sound experience. As a result, the area can be clutter-free as we do not need separate speakers to get the surround sound experience.
Owning a TV is just half the tale. Consuming the right content is undoubtedly the other half. To extract most out of the TV, you need to subscribe to the right streaming services. To further enhance your experience, invest in an Apple TV 4K or a Chromecast Ultra (maybe even both). The Apple TV 4K is the undisputed champion when it comes to streaming 4K and HDR content. Furthermore, they have been continually adding features to integrate with Amazon Prime Video, support Dolby Atmos, and more.
My only gripe about this product is the lack of 4K and HDR support for YouTube. Here is where the Chromecast Ultra comes into the picture. It has native Google Assistant support to choose what you want to watch. Also, it supports a host of 4K HDR streaming services, with the only exception being Amazon Prime Video. In short, this tandem of devices ensures that you do full justice to the TV that is set up in the space.
Console Wars: Team Green vs. Team Blue
Pairing the TV with an ideal gaming console is imperative for an entertainment space. For this, I went with the XBOX 1 X (XB1X). It was a tough call between this device and PS4 Pro, but XB1X had the edge in terms of 4K and HDR performance. Additionally, the vast game library allows for ceaseless gaming sessions and fun. 60 frames-per-second at 4K resolution is about as good as it gets in the console gaming sphere. Unsurprisingly, the XB1X scores as the best console in the market. Lastly, it also offers Alexa integration to control your device with just your voice. All this makes for a must-have gaming experience in the entertainment space. If you're "Team Blue" in the console wars, you can always look towards the PS4 Pro and enjoy a comparable experience.
The PC Master-Race
A true tech-enthusiast knows that a PC is unavoidable in an entertainment space. There are many ways you can go about this. Firstly, you can get a high-end system from a boutique PC builder like MainGear. The second option is to spend a few extra hours and build your own, saving a few bucks in the process (my personal favorite). Rather than hooking up a PC to the sizeable OLED TV, I suggest that you set aside a corner for PC gaming. This way, you can even game competitively using high refresh rate, low latency gaming monitors like the Asus ROG Swift PG27UQ.
Consequently, to make the most out of the display, you will need a powerful PC. My suggestion? Let NVIDIA's GEFORCE RTX 2080Ti be at the forefront of the build. Surround this mammoth of a GPU with components that do not cut any corners, for an unmatched gaming experience. Here is the icing on the cake – Exceptional gaming performance almost always translates to exceptional performance on the whole.
The Tale Of Two Assistants
Lastly, a tech-inspired space is not complete without the inclusion of a smart assistant. On this front, Amazon and Google have a wide variety of options. With the current setup devices, it is a natural choice to pick Amazon's Echo Dot as the assistant of choice. As we add smart home lighting, the assistant becomes a pivotal piece. This assistant will be the fabric that ties this entire setup together, as you will see later on in the article.
Where Do I Place All This Tech?
A truly "ultimate" space needs furniture that matches the firepower of the hardware installed in it.
In this section, I take a look at various tables, chairs, and shelving units to house the devices. Firstly, we need to determine an approximate color scheme for the furniture. I went with a predominantly white base. This color scheme lets the lighting dictate the whole mood of the space.
The Storage Champion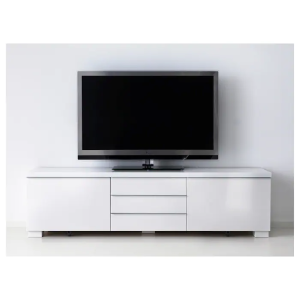 Product Link: http://bit.ly/348qjt3 (Not Available on Amazon)
The soundbar rests on a BESTÅ BURS TV Unit from IKEA. As the OLED TV is wall-mounted, there is enough real estate on top of the unit to house the Apple TV 4K box and the gaming console. It has ample shelving space and multiple drawers to hold all the media items from game discs to controllers. You can store all the cables and remote controls that you might need in one of the two pull-out drawers. In effect, the TV unit acts as the hub that holds all our entertainment devices in one place.
First-Class Seating
Next, there needs to be somewhere for you to sit and take in all the OLED glory from the Wallpaper TV. There is an assortment of choices available, and here I will provide a brief overview. First, we have a product that needs no introduction – the trusty old bean bag. It is a product that is synonymous with "fun." However, this comes at the cost of aesthetics. Bean bags sit clumsily in the middle of the room, with no way of reducing the space consumed. If you're looking for a clean aesthetic, this is probably not the way to go.
Big Joe Lenox Shredded Foam Bean Bag, Super, Black
Product Link: https://amzn.to/35e2Rfg
The next option that I came across does need an introduction. The product in question is the "Rocker Chair." Although there are many variants in the market, I am focusing on X Rocker's Pro Series H3. The design lies midway between a clumsy bean bag and a conventional chair. True to its name, it sits on the floor and rocks back-and-forth.
Moreover, it has a host of advanced features that provide a unique experience for both gaming and movie-watching. It has built-in vibration motors and front-facing speakers baked right in. All of this equates to a scintillating entertainment experience.
Lastly, we have the ultimate cinema-esque experience: The Pulaski Larson Theatre Recliner. The name speaks volumes about the product itself. It is a recliner seat, but its unique features elevate it to a truly "ultimate" status. Complete with power reclining, an AC plug point, and USB charging ports, this product is the perfect buy. Besides, it aesthetically fits in as a piece of furniture. This product completes the lineup of potential seating options in the entertainment space.
The Swiss Knife Of Coffee Tables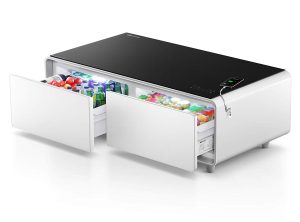 Product Link: https://amzn.to/2Pe4hkn
The ultimate entertainment space deserves the ultimate coffee table. Nothing screams "ultimate" more than the PRIMST Refrigerator Coffee Table. Yes, you read that right. It is a coffee table and a refrigerator for storing your drinks. This coffee table includes a pair of Bluetooth speakers, along with full-touch controls and USB charging ports for your tablets and phones. I love the design and the black accent of the tabletop.
Moreover, it is not an absolute bank-breaker either. For a piece of beautiful furniture that doubles as a cooler and a speaker, I find the price tag more than justified. It is a compelling buy to add some character to your space.
Ergonomics + Aesthetics = Pain-free Gaming That Is Beautiful To Look At
A table and a chair are essential for the PC setup that I previously alluded to. SHW's motorized sit-stand desk is an excellent option if you spend excessive time on your PC. The electronic control gives a very granular adjustment to suit your height. It comes in two wood finishes and oak and cherry. I am a fan of the light oak finish for this space as it suits the overall aesthetic. The 55-inch tabletop is more than enough to house the splendid gaming display and the PC's peripherals. It even gives you enough space to add in some accent figurines and whatever else you might want to include. Moreover, it fits right in with the design language of the IKEA TV unit and the smart coffee table mentioned previously. Therefore, this is an excellent inclusion to what is shaping up to be a no-compromises setup.
The last piece of the puzzle is a comfortable chair for gaming. Skimping on this is not advised for ergonomic reasons. For this, I looked around for a stealthy black scheme to accent the white furniture in the space. Finally, I picked the Vertagear VG-SL5000_BK S-Line 5000 gaming chair for its stealthy look and stellar comfort features. It has excellent lumbar support and arm handle adjustment for maximum comfort. Also, the luxurious leather finish makes long gaming sessions a comfortable experience.
Let There Be Light!
The mood of any space is directly influenced by the type and color of the lighting in it. Being a tech-inspired space, it deserves to have a healthy mix of smart home lighting and color-matched RGB peripherals.
Smart Lighting For A Smarter Space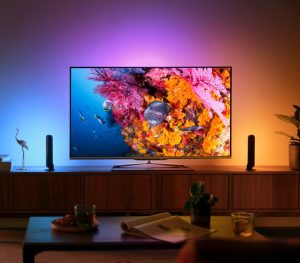 Product Link: https://amzn.to/2EmFi87
An obvious choice is to opt for the Philips Hue ecosystem. The reason being its integration with home assistant applications. Moreover, the lighting itself is very bright and disperses beautifully. There is an assortment of different lighting fixtures that are available. This choice allows us to decorate the entire living space in lights that blend and match. The Hue app allows you to customize the colors and layout of the whole area. In effect, this enables almost unlimited flexibility, and you will not get bored of seeing the same old lights over and over.
LED strips are an excellent way to highlight specific areas in the space. You can use strip lighting as a unique way to accent a corner of the room in a contrasting shade. It can also create a gaming environment when the regular lights are switched off. Also, movie-buffs can recreate a cinema experience within the space by playing around with the lighting hues and shades.
RGB Everything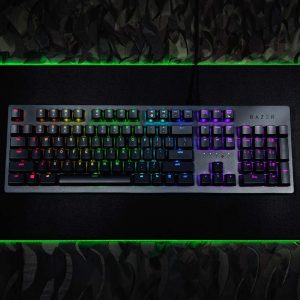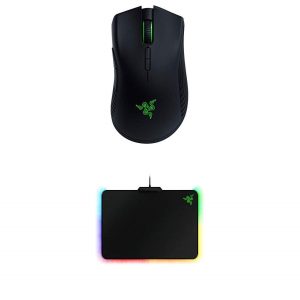 Product Link (left): https://amzn.to/2YG8ZKL | Product Link (right): https://amzn.to/2LOqtPY
RGB PC components are at an all-time high, and it would be sinful not to include them in such a space. No gaming setup is complete without a mechanical keyboard and a gaming mouse. Razer's Huntsman gaming keyboard is an absolute powerhouse, packing the latest optomechanical switches and full RGB support using Razer's Chroma software. The Razer Mamba Wireless gaming mouse, bundled with their Firefly Chroma mouse pad, rounds up the suite of peripherals. Through Razer's Chroma software, these peripherals can be synced along with the other lights in the room to elevate the space in its entirety.
A Blank Canvas Has Unlimited Opportunities
The options discussed so far were nothing out of the ordinary. This space, however, is truly something you have never seen before. The Nanoleaf Canvas is a one-of-a-kind LED panel kit that offers unmatched customizability. It is a unique way to add a layer of personalization to the walls. This personalization comes from using the "touch-enabled experiences" that the Canvas has to offer. Additionally, you can call upon your trusty digital assistant to set the mood or play around with different hues.
What Is The Point Of All This?
This article goes to show how creative you can get, provided budget constraints are not present. I have intentionally gone for a "pick-the-most-expensive-one" approach when compiling this list. Practically, however, you can easily find substitutes that fit your budget but still "tech-out" your living room. How far can you push the limits of your wallet? But most importantly, how far can you push the boundaries of your creative limits?